Friday Night Date Night is a feature on my blog that showcases movie review (mostly movies that were adapted from books). Hopefully some of these reviews will help you decide what to watch on your date night or a night of chillin with the girls.
It has been about a month since I have done Friday Night Date Night so I thought I'd come back with a bang. So you might have guessed it but this week's movie is....THE HUNGER GAMES!
I never did a formal review of The Hunger Games on my blog so for a short overview when I first read it I had super mixed feelings. I loved it's originality and Suzanne Collins writing was so captivating I couldn't put it down. However, I had a small problem with the violence and the fact that this book is often classified under Young Adult/Children's instead of Teen or older.
I am not a mother and therefore have a while before I have to decide what is appropriate for my children to read or not, but the thought that I was a bit horrified by the situations in the novel scared me at what the younger crowds reading this book took away from it. We actually discussed it for my young adult book club and the adults in it were talking about the political aspects and the tweens in it told us they didn't see anything political about it and that we should stop over analyzing it and just take it as a good story. Hmmm...I wonder what they will think of the story in ten years.
Nevertheless, I still did enjoy the book and read the entire series. When the trailer for The Hunger Games came out I got a little tingly and decided that I wanted to re-read the books. I didn't re-read them but I did listen to them on audio. They were fantastic on audio! Anyway after rereading them I got super excited for the movie.
Did I like the movie...OF COURSE! I thought the casting was ridiculously good. I mean could Stanley Tucci get anymore fabulous as Caesar Flickerman? And I loved Lenny Kravitz as Cinna. Seriously he was perfect. I really enjoyed all of the characters and thought the acting was quite good. And the costumes were so amazing. I wish I could have been an extra as a capitol citizen. Judianna Makovsky blew me away...this chicka should win the gold for best costume design. Simply stunning.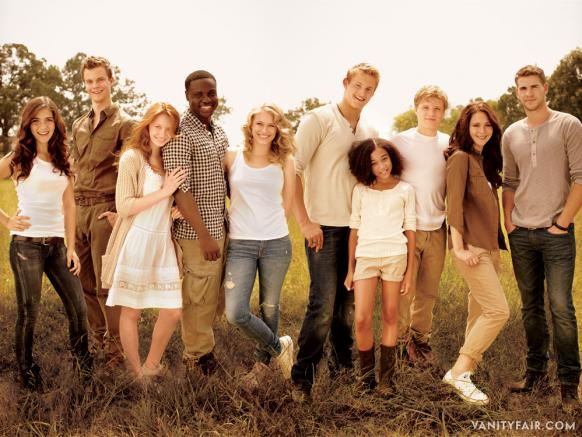 Were there things I wasn't fond of? Of course. I felt that if you hadn't read the books you missed out on a lot of important information. My sister and brother-in-law went the the movie and when they got back they kept asking me to explain things. Finally I just gave them the books and now they are both devouring them. There are also a couple of scenes that I wish the director would have made more significant (or included) in the movie such as the gift of bread from district 11, Katniss's conflicting feelings over Peeta and the significance of Peeta giving her the bread when she was starving. I also felt at times that the movie made Peeta look weak and needy. I didn't get that feeling from the book so I didn't really understand why I felt that way when watching the movie. Plus the camera angles and movements made me a little nauseous at times.
Overall I loved it and I think it is one of those movies you need to see multiple times just to take everything in.
What did you all think?